Allergy and Immunology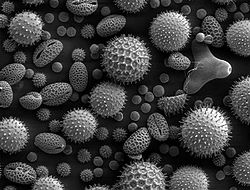 Allergy is a very common disorder which affects many people these days. With a rising number of allergens a number of those affected by allergy rises as well. It is important to be aware of our potential allergy sensitivity and prevent it.
Basics:
Allergy is a hypersensitivity disorder of the immune system. Allergic reactions occur to normally harmless environmental substances known as allergens; these reactions are acquired, predictable, and rapid. Strictly, allergy is one of four forms of hypersensitivity and is called type I (or immediate) hypersensitivity.[1]
Allergic reaction can manifest as an anaphylactic shock.
Anaphylaxis is an acute multi-system severe type I hypersensitivity allergic reaction. The term comes from the Greek words ἀνά ana, against, and φύλαξις phylaxis, protection.[2]
Immunology is a broad branch of biomedical science that covers the study of all aspects of the immune system in all organisms. It deals with the physiological functioning of the immune system in states of both health and disease; malfunctions of the immune system in immunological disorders (autoimmune diseases, hypersensitivities, immune deficiency, transplant rejection); the physical, chemical and physiological characteristics of the components of the immune system in vitro, in situ, and in vivo. Immunology has applications in several disciplines of science, and as such is further divided. [3]
Allergic reaction as asthma:
High total serum IgE levels are known to correlate with allergies, asthma, and bronchial hyperresponsiveness. The observed familial aggregation of allergies and asthma has long supported the existence of an important heritable component to these conditions. As with most complex disorders, however, the allergic and asthmatic phenotypes do not seem to be inherited in simple Mendelian fashion. Furthermore, the clinical expression of these disorders is influenced by age, sex, and exposure to allergens, pollutants, and viral respiratory infections.Consequently, the mode(s) of inheritance and the gene(s) responsible for these complex atopic disorders have been incompletely understood. [4]
Pediatric allergy:
We evaluated the prevalence and characteristics of the principal foods implicated in 355 children diagnosed with IgE-mediated food allergy. Diagnosis was established on the basis of positive clinical history for the offending food, positive specific IgE by skin prick test and RAST, and open food challenge. Our results showed the principal foods involved in allergic reactions are: eggs, fish, and cow's milk. These are followed in frequency by fruits (peaches, hazelnuts and walnuts), legumes (lentils, peanuts and chick peas) and other vegetables (mainly sunflower seeds). The legumes demonstrated the highest degree of clinical cross-reactivity. Most patients with food allergy reacted to one or two foods (86.7%). Only 13.3% of patients reacted to 3 or more foods, mostly to legumes and fruits. We found that food allergy begins most frequently in the first (48.8%) and second (20.4%) years of life. Allergy to proteins of cow's milk, egg, and fish begins predominantly before the second year, demonstrating a clear relationship with the introduction of these foods into the child's diet. Allergy to foods of vegetable origin (fruits, legumes and other vegetables) begins predominantly after the second year.[5]
Dietary approach in treating allergies:
The dietary approach to reducing the risk of atopic diseases in infancy is evolving from passive allergen avoidance to active stimulation of the immature immune system, the aim of which is to support the establishment of tolerance. The intestinal mucosa and the mucosa-associated immune system are the primary loci of allergen contact and induction of immune responsiveness. In this review we discuss cross-talk between the intestinal microbiota and the host as it pertains to healthy immunologic maturation. Understanding these complex phenomena provides the rationale for the use of probiotics in reducing the risk and nutritional management of atopic disease. [6]
Atopic dermatitis:
Evidence suggests that a strong positive correlation exists between atopic disease and attention-deficit/hyperactivity disorder. But since all studies of the issue to date have been observational, "a causal relationship cannot be inferred," according to a research commentary in the August issue of the Archives of Dermatology. "Further epidemiologic studies that use consistent and validated measures to more accurately define atopic disease and ADHD and adjust for confounders and disease severity are needed to better elucidate this relationship," said Dr. Sarah N. Gee and Dr. Michael Bigby of the departments of dermatology at Harvard Medical School and Beth Israel Deaconess Medical Center, both in Boston (Arch. Dermatol. 2011;147:967-70).
Conclusion:
With an increasing number of allergy reactions it is of great importance to do as much research on the topic as possible. There are many cures for allergy reactions but as they can happen to babies and elderly people who all have fragile bodies, besides good anti-allergy medicaments prevention is of utmost importance.
References:
[1] http://en.wikipedia.org/wiki/Allergy
[2] http://en.wikipedia.org/wiki/Anaphylaxis
[3] http://en.wikipedia.org/wiki/Immunology
[4] Allergy and Immunology by: James R. Baker, Jr, MD; James L. Baldwin, MD
[5] Frequency of food allergy in a pediatric population from Spain by: J. F. Crespo, C. Pascual, A. W. Burks,R. M. Helm, M. M. Esteban
[6] New therapeutic strategy for combating the increasing burden of allergic disease: Probiotics—A Nutrition, Allergy, Mucosal Immunology and Intestinal Microbiota (NAMI) Research Group report by: Samuli Rautava MD, Marko Kalliomäki MD, PhD and Erika Isolauri MD, PhD
---