Neil Armstrong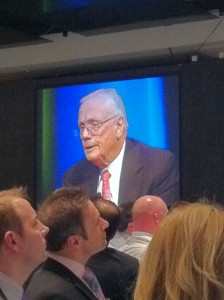 ---
AUTHOR:

Alan Kerlin

Alan Kerlin, BAppSc (EnvSc), is an amateur astronomer and blogger, living in Canberra. When Neil Armstrong stepped onto the Moon in 1969, Alan Kerlin and the rest of Red Hill Primary School in Canberra watched it on a single small black and white TV. In 2005, Alan moved back to Canberra, with his family. In between, Alan has had a diverse career, including as an elected Councillor in Queensland, IT business operator, Landcare manager in Holbrook, and greenhouse consultant in Brisbane. More recently, exposure to the online science community through social media has reignited Alan's interest in science in general, and particularly in astronomy. Living in Canberra gives him opportunities to connect with and interview numerous leading scientists. Find Alan on:

Google+

,

Twitter

and

Facebook

, and his blog is called

The Beach House

- a tribute to Douglas Adams.