Sustainable Construction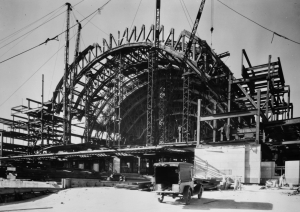 In the past decade the awareness of the importance of ecology and environment protection has risen to a very high level. People are being educated more on the environment protection and are always trying, together with experts, to find new ways of being green. With that in mind sustainable construction has been invented.
Basics:
Green building (also known as green construction or sustainable building) refers to a structure and using process that is environmentally responsible and resource-efficient throughout a building's life-cycle: from siting to design, construction, operation, maintenance, renovation, and demolition. This practice expands and complements the classical building design concerns of economy, utility, durability, and comfort.[1]
While standard building practices are guided by short term economic considerations, sustainable construction is based on best practices which emphasize long term affordability, quality and efficiency. At each stage of the life cycle of the building, it increases comfort and quality of life, while decreasing negative environmental impacts and increasing the economic sustainability of the project. A building designed and constructed in a sustainable way minimizes the use of water, raw materials, energy, land … over the whole life cycle of the building.[2]
The evolution of the concept of sustainable development is used as a basis for advancing understanding of sustainable construction. Principles of sustainable construction are developed and divided into four 'pillars' – social, economic, biophysical and technical – with a set of over-arching, process-oriented principles, to be used as a checklist in practice. A multi-stage framework is proposed which requires the application of Environmental Assessment and Environmental Management Systems for construction projects.[3]
Sustainable or "green" construction is a type of construction which is concerned with environmental impacts in addition to the creation of a usable structure. When people build sustainably, it means that they are building in a way which is considered sustainable, meaning that the building practices used can be utilized in the long term without causing damage to the environment. There are a number of aspects to sustainable construction, and such construction is often overseen by a firm which specializes in sustainable construction and is familiar with the complexities of this type of work.
Sustainability is a complex issue. One critical facet is environmental sustainability, but it can also include social and economic sustainability. Good sustainable construction thinks about the environmental impacts of construction and long term building use, in addition to considering whether or not a structure is economically sensible to build and maintain, and whether or not a structure fits sustainably into the social structure in the area where it is being built. [4]
Construction has been accused of causing environmental problems ranging from excessive consumption of global resources both in terms of construction and building operation to the pollution of the surrounding environment, and research on green building design and using building materials to minimise environmental impact is already underway. However, relying on the design of a project to achieve the goal of sustainable development, or to minimise impacts through appropriate management on site, is not sufficient to handle the current problem. The aim for sustainability assessment goes even further than at the design stage of a project to consider its importance at an early stage, before any detailed design or even before a commitment is made to go ahead with a development. However, little or no concern has been given to the importance of selecting more environmentally friendly designs during the project appraisal stage; the stage when environmental matters are best incorporated. The main objectives of this paper are to examine the development, role and limitations of current environmental building assessment methods in ascertaining building sustainability used in different countries which leads to discuss the concept of developing a. sustainability model for project appraisal based on a multi-dimensional approach, that will allow alternatives to be ranked is discussed in detail in the paper.[5]
Sustainable construction faces economic challenges at different levels. On the macroeconomic level, the goals of sustainable construction are being implemented most actively in industrial countries in which the share of construction output is decreasing. However in both less developed and newly industrialized countries, the share of construction output is increasing, but the goals of sustainable construction are more difficult to implement. On the mesoeconomic level, the construction sector depends on the implementation of the goals of sustainable development across the national economy as a whole. Supply chains feeding the construction sector are long and intertwined, making it difficult to assess the effect of different materials, components and procedures. On the microeconomic level, buildings are created with shorter time horizons in response to being a demand-derived commodity and increasingly dominated by mechanical, electrical and electronic equipment. Their finance is being adjusted to the short and medium term which is in conflict with sustainable construction, whose goals rely upon the long term. Two broad approaches for meeting the economic challenges of sustainable construction are considered: governance through standards, legal and regulatory practices; market-oriented policies which influence the costs of particular forms of construction. Both approaches have a role, but it is argued that the market-oriented measures will be more effective at the strategic level.[6]
The construction industry makes a vital contribution to the social and economic development of every country, but, at the same time, its building sector has major impacts on the environment. Construction is a major consumer of non-renewable resources (energy in particular), a substantial source of waste, a polluter of air and water and an important contributor to land dereliction. This paper focuses specifically on the growing lack of focus on construction sustainability in the Southern Africa Development Community (SADC) public building sector. It indicates some salient issues on sustainable construction and the need for appropriate procurement systems, using the Botswana public building sector as a case study. It addresses two propositions. First that lack of appropriate focus on sustainable construction is primarily due to an inappropriate project organizational structure. Second that a default traditional construction procurement system (TCPS) provides a poor relationship management system incapable of dealing with sustainability parameters. Information is obtained through questionnaires on the dominant procurement system used. The primary conclusion is that the building procurement system apparently in use in the SADC public building sector differs significantly from that recommended in the theory, resulting in insignificant focus on construction sustainability. Salient steps are proposed with a proviso that the SADC public building sector should establish appropriate methods of selecting building procurement systems and formulate appropriate project organizational structures that will embrace an environmental management system. [7]
Conclusion:
Construction industry is the one making a strong impact on both the economy and the environment of a country. With it making big profits and big pollutions a balance had to be made and that is when sustainable construction came. Besides being green sustainable construction was put to a higher level when designers decided to create visibly pleasing 'green' buildings.
References:
[1] http://en.wikipedia.org/wiki/Green_building
[2] http://www.isover.com/Our-commitment-to-sustainability/Toward-sustainable-buildings/What-is-sustainable-construction
[3] 'Sustainable construction: principles and a framework for attainment', Authors: Hill R. C.; Bowen P. A.
[4] http://www.wisegeek.com/what-is-sustainable-construction.htm
[5] 'Sustainable construction—The role of environmental assessment tools' Grace K.C. Ding
[6] Sustainable construction: some economic challenges Authors: Ranko Bon; Keith Hutchinson
[7] 'Benchmarks for sustainable construction: A contribution to develop a standard' by M. Zimmermann, H.-J. Althaus and A. Haas
---