The Effects of Working Hours on Health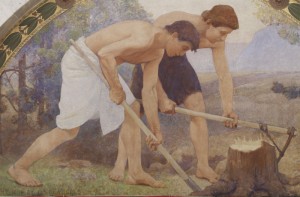 'Man was made to work' is what the Bible says and weather or not we agree with the statement work is an inevitable part of our lives. Not only that it provides people with means for living but is also a man's need to employ their time in either physical or mental activity which brings some purpose to life.
The Basics:
Working time is the period of time that an individual spends at paid occupational labor. Unpaid labors such as personal housework are not considered part of the working week. Many countries regulate the work week by law, such as stipulating minimum daily rest periods, annual holidays and a maximum number of working hours per week.[1] Working time can be working fixed hours, flexible hours or in shifts. The length of the working week often depends not only of the position one has in the company but on the company or a even a country as well. A work week that is too long will result in earning more money at the cost of stress-related health problems as well as a "drought of leisure."[2]
The effects of working hours on health
Together with the type of work, working hours can have a significant effect on a person's health. Weather long working hours adversely affect health has been debated for decades. However policy-makers considering the regulation of working hours have had the difficulty of making decision based on scientific research. In Japan, where long hours are common, a growing number of workers have been dying from cardiovascular causes (for instance stroke, acute cardian failure, myocardial infraction and aortic rupture) in their most productive years. The study showed that many of the workers have been putting long working hours before they died. The Japanese have named such deaths Karoshi, meaning "death from overwork". [3]
Mann (1965) suggested many years ago that "hours of work have long been recognized as having a marked effect on the way and individual and his family lives." Research investigating the relationship between long working hours and health, produced finding which raised concern about the impact long work hours on individual's well being. Work overload, resulting in long hours, has been linked with stress, indefinite complaints and fatigue. Working long hours can overtire a person both mentally and physically. [4]
Working outside normal hours either by extended days or shift work is a fact of industrial society. Its economic advantages must be weighed against detrimental effects on the individual worker in the form of circadian rhythm disturbance, poorer quality and quantity of sleep and increased fatigue. The link between shift work and increased cardiovascular morbidity and mortality has strengthened in recent years. The case for an association with gastrointestinal disease remains quite good. Evidence of poorer work performance and increased accidents, particularly on the night shift, is persuasive, although individual factors may be as important as workplace factors.[5]
Conclusion:
Many researches have been conducted to examine the effects of working hours on health. The results were not surprising as they have shown the things employed people knew themselves. Long working hours have under no circumstance a positive effect on health but they even deteriorate it leading to many serious health problems.
Resources:
[1] http://en.wikipedia.org/wiki/Working_time
[2] http://en.wikipedia.org/wiki/Working_time
[3] http://dsp-psd.tpsgc.gc.ca/Collection-R/Statcan/82-003-XIE/0029982-003-XIE.pdf#page=34
[4] "The effects of hours of work on health: A meta-analytic review" by K Sparks, C Cooper, and Y Fried
[5] ''Shift work and health–a critical review of the literature on working hours'' Ann Acad Med Singapore. 1994 Sep;23(5):699-705
---