Increasing UPS battery life main failure modes, charging and monitoring solutions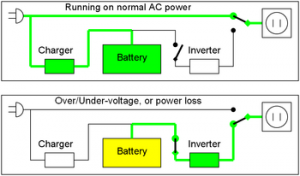 In modern-day times when technology is everything, owning it and knowing how to use it is not all there is to it. Protecting it is also important.
With the merging of computer telecommunication technologies, and "multimedia", uninterruptible power supplies (UPS), already widely used to protect the computer networks and to guarantee service continuity to their users, should certainly be viewed as a reliable and cost effective solution to assure protection and battery back up to telecommunication infrastructure, private, or public.[1]
Basics:
An uninterruptible power supply, also uninterruptible power source, UPS or battery/flywheel backup, is an electrical apparatus that provides emergency power to a load when the input power source, typically the utility mains, fails. While not limited to protecting any particular type of equipment, a UPS is typically used to protect computers, centers, telecommunication equipment or other electrical equipment where an unexpected power disruption could cause injuries, fatalities, serious business disruption or data loss.[2]
Charging and Monitoring
Uninterruptible power supplies are increasingly considered to be a reliable and cost effective solution for providing protection and battery back-up for both private and public telecommunication infrastructures. The purpose of this paper is to examine some of the factors that are important for reliability and longevity of VRLA batteries in a UPS. After discovering that the main cause of battery failure was overcharging, we concentrated on finding the best method for managing UPS batteries. We came to the conclusion that, in order to improve drastically the reliability and longevity of the UPS batteries, we have to choose pulsed charging and cell by cell monitoring, taking into account a small but suitable set of parameters. Pulsed charging allows us to adjust more accurately the amount of current delivered to the battery during the sustained charging phase compared to the traditional float mode. Several methods are available for pulsed charging: selection of the right pulsed charging mode is a key factor in obtaining the lowest stress level for the battery. Cell by cell monitoring is known to be one of the best ways to manage batteries because it allows us to take into account the spread of production performance of the different battery blocks which are generally included in a string. Furthermore it allows us to identify weak cells in the customer installation blocks. This paper describes the UPS battery failure modes and the MGE recommended solutions to use in order to reduce the failure effects. It describes the parameters we think are most suitable to monitor the battery, particularly in the case of pulsed charging [3]
Battery Failure
A Battery Management System (BMS) is any electronic system that manages a rechargeable battery (cell or battery pack), such as by monitoring its state, calculating secondary data, reporting that data, protecting the battery, controlling its environment, and / or balancing it.[4]
Reliability and costs of an energy storage system are two very important parameters for uninterruptible power supplies (UPS) and other battery applications. The increasing of battery life and the prediction of battery failure are therefore two important features of a battery management system (BMS). A couple of other helpful features can be implemented in a BMS. In the case of advanced batteries, special features like thermal management (i.e. high temperature batteries) or safety management (i.e. lithium batteries) is necessary. Therefore the BMS must be optimized to the battery type and the application. In smaller systems the BMS is connected very closely to the battery or inside the battery and an operation without the BMS is not possible. [5]
The run-time for a battery operated UPS depends on the size and type of batteries, the efficiency of the inverter and rate of discharge. [6]
With using all the technology which has become a big part of our lives we need to get to know more how it works and learn what options we have to protect it. When power source fails it is important to provide an emergency power load and that is where UPS helps.
References:
[1] http://ieeexplore.ieee.org/xpl/freeabs_all.jsp?arnumber=573404
[2] http://en.wikipedia.org/wiki/Uninterruptible_power_supply
[3] http://ieeexplore.ieee.org/xpl/freeabs_all.jsp?arnumber=645916
[4] http://en.wikipedia.org/wiki/Battery_management_system
[5] http://ieeexplore.ieee.org/xpl/freeabs_all.jsp?arnumber=918409
[6] http://www.techbatterysolutions.com
---